Home » Full Day Tour » Denpasar City Tour
Denpasar City Tour
About Trip
Price : 45 USD

Itenerary :
Badung Traditional Market

Jagatnatha Temple

Bali Museum

Bajra Sandhi Monument
Include :
English Speaking Driver
Parking and Toll fee
Mineral Water
Excluded :
Badung Traditional Market
Is the center activities of seller and buyer with the variety of daily life need. You can see closely the Balinese doing transaction among them and local material that support their life. This market is located in the center of
Denpasar City
and opened within 24 hours with several of selling activities. Badung Market is opened on 24 April 1984 by Bali 's Governor, Prof. Dr. Ida Bagus Mantra. Then after experiencing of the fire accident, it has been repaired in year 2000 at that moment Bali 's Governor is Mr. Dewa Made Berata. This market owns the broadness about 14.544 M² and broadly park 9064 M² which is built in four floors.
Jagatnatha Temple
This temple is very beautiful with full of Balinese ornament decorates on each temple building from the entrance gate until the main temple building and located at the center of
Denpasar City
. Apposite to this temple, there is a big courtyard with beautiful tropical garden. There is high temple building in the center of temple area that is the main temple where is used to pray to the god by Balinese Hindu. The unique of this temple is not having the Pengemong (the group of people/organization/team who support, keep, maintains the temple) like other temples in Bali, but it is only own the small volunteers and people who worship at this temple.
Bali Museum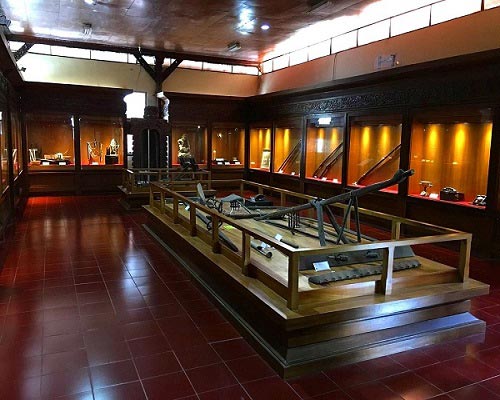 Located in the heart of Denpasar City and the places next beside of Jagatnata Temple. Is object collections which are kept in Bali Museum can be ified become the prehistoric object collection like: the Grave Petrify (sarkopag), the object collection coming from history era like: stupika clay containing superstitious formula Ye Te, the bronze statues and ethnography object collection like Keris, Endek Cloth, and religious ceremony equipments. The development of Bali Museum is begun by the existence of initiative how to vitally the heritage of Balinese culture and taking care of, preserve and maintaining. The initiative is based on the existence of feeling to worry, that there is symptom a kind of culture erosion.
Bajra Sandhi Monument
Is monument of Balinese People Struggle . Loated in the center of
Denpasar City
. This Monument is recognized by the name of Bajra Sandhi because it's form is looking like Bajra or Genta or bell used by all Hindu Priest in reading off Weda holy sentence (mantra) at religious ceremony. This monument is built in the year 1987 and it is opened by president of Megawati Sukarno Putri on 14 June 2003. The purpose of Bajra Sandhi Monument is to immortalize the soul and spirit of Balinese People struggle, at one blow dig, looking after, developing and also preserve the culture of Bali to be bequeathed to a router generation as advancing capital stroke tread a world of loaded progressively with the challenge and resistance.
Area Covered for Pick Up :
Seminyak, Legian, Kuta, Nusa Dua, Jimbaran, Pecatu, Sanur, Ubud, Canggu, Denpasar, Benoa Harbour, Airport
Please contact us for pick up in different area
Booking Form
Contact Us ?

Booking Now!
Get Bali Tour Packages Prices at affordable rates. Our company Bali Vacation Tours provide the best facilities for Bali Tour passengers. Enjoy fun travel services from Bali Vacation Tours.