Home » Activities Tour » Bali Swing Tour
Bali Swing Tour
About Trip
Bali Swing Tour is an adventure activity that we created for those of you who want to enjoy swings on the island of Bali with very beautiful scenery in the forest, really the sensation of a tour that is different from the others. Swing in Bali is an activity that has just been introduced, but because of the enthusiasm of the tourists who want to try this activity making swing activities famous among domestic and foreign tourists. The activity is located in the village of Bongkasa, close to Ubud. And this swing attraction can be combined with several tours to visit tourism objects in Bali.Bali Swing has 15 swings for 1 person with many swing height choices. There are swings with a height of 10 meters, 15 meters, 20 meters and 78 meters above the ground. Each Swing will offer a different sensation because of the different heights, which are more exciting swings depending on your courage. All swings are positioned to face a valley filled with trees, and views of the river. Setting the position of the Swing is what makes the Bali Swing Ubud ride very popular. So which ever swing you choose, you will still get beautiful natural scenery.In addition to one man's swing, Bali Swing also offers other rides such as;
House tandem swing 3.
2 large bird nests.
Shooting location with helicopter background.
Forest boat.
Romantic bed located on the edge of a cliff.
Stone heart and 4 large stones located on the edge of the valley with views of the canyon and river waterfalls.
If you are afraid of heights and don't dare to try Swing but want a photo with a beautiful background you can try sitting in a large bird's nest hanging over two trees. So that you can climb and descend from a bird's nest, the provider will provide a movable ladder, with the aim that when you are photographed sitting in a bird's nest, the stairs are not visible in your photo.
Enjoy Bali Swing Tours With Us: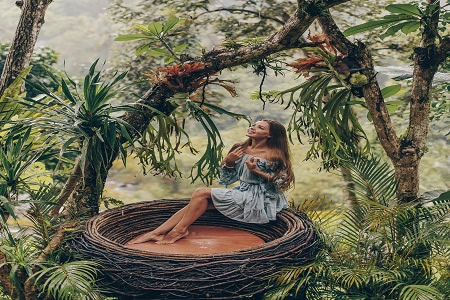 Bali Swing Tour Itinerary
Morning schedule
09.00 - pick up at hotel
10.30 - enjoy bali swing
12.00 - lunch
13.00 - back to hotel
15.30 - arrive at hotel
Afternoon Schedule
12.00 - pick up at hotel
13.30 - lunch
14.30 - enjoy bali swing
16.00 - back to hotel
17.30 - arrive at hotel
Bali Swing Tour Price
1 - 2 person : IDR 550.000/person
2 - 3 person : IDR 475.000/person
3 - 4 person : IDR 425.000/person
4 - 5 person : IDR 400.000/person
5 - 6 person : IDR 385.000/person
Note :
Minimum booking 2 person
Solo Traveller will have add charge IDR 200.000
Bali Swing Tour Price Include :
Return Transfer with Private Car
Swing at Bali Swing
Lunch Buffet Indonesian food (all food is halal)
Insurance coverage during swing
Area Covered for Pick Up :Seminyak, Legian, Kuta, Nusa Dua, Jimbaran, Pecatu, Sanur, Ubud, Canggu, Denpasar, Benoa Harbour, Airport
Please contact us for pick up in different areaTerms Payment
Payment is Cash Payment
Payment is on the day itself with our driver
Payment with other currency will convert based on daily exchange rate
Booking Form
Contact Us ?

Booking Now!
Get Bali Tour Packages Prices at affordable rates. Our company Bali Vacation Tours provide the best facilities for Bali Tour passengers. Enjoy fun travel services from Bali Vacation Tours.